As you have probably heard a billion times already, Google Reader is shutting down July 1st. If you have been keeping up with Sew Fearless (or any other blogs) with that RSS reader, you need to subscribe to them some other way and soon.
Here are some options for this blog:
Feedly

is an RSS reader just like Google Reader and it has a really simple migration process for moving your entire collection of blogs over from Google Reader. This is the option I went with. I'm not 100% happy with it yet, but it was the best option for me right now. Their app is super nice too.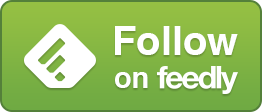 Bloglovin is another RSS option. They have a migration process as well. They tend to be more "picture" focused and I happen to dislike that they cut off the footer of my posts (which is how I give coupons to my readers). Like Feedly they have an app, and they also have the option to email you when your blogs are updated.

Or, you can move away from RSS and subscribe to Sew Fearless by email by following this link .
There. That wasn't so bad wasn't it? Let me know if you have questions.
I'll be seeing you early next week with a brand spanking new tutorial.